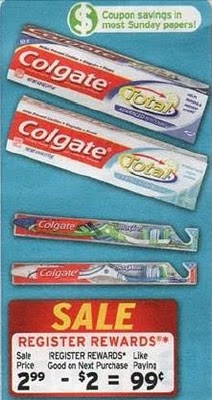 Here are a couple of updates for this week's Walgreens shopping.  First, it looks like the Colgate oral care register rewards is rolling.  This means that if you have a register rewards that was produced from buying Colgate, you can use it to buy more Colgate oral care products.  This is not the norm, but it seems in this case it is working this way.  It may stop doing so at any time though.  I am happy to hear these news as I really need toothpaste and we are loyal to Colgate (sorry Crest).  Here is the deal as a reminder:
Colgate Dental Care $2.99, Earn a $2 RR when you buy one
Use $1/1 Colgate Total Toothpaste 9/12/2010 SS Insert (exp 10/2/2010) or
Use $0.40/1 Colgate Adult or Kids Manual Toothbrush 8/29/2010 SS Insert (exp 9/18/2010)
As low as free after coupon and register rewards  (Thanks Deal Seeking Mom)
Also, you can pick up FREE Nyquil Vanilla Swirl:
Buy two NyQuil Vanilla Swirl, 10oz $5.99 each
Use two $1.50/1 Vicks NyQuil 8/29/2010 P&G Insert (exp 9/30/2010)
PLUS use $2/1 Vicks NyQuil Swirl Walgreens IVC (will deduct $4)
Pay $4.98 plus tax out of pocket and get a $5 register rewards back  (Thanks Wild for Wags!)
I am going to be trying this one later this morning.  Happy Savings!