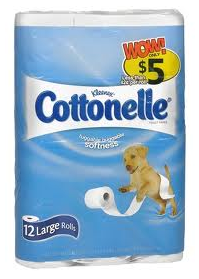 Here is a great deal on toilet paper at Walgreens.  This deal is good on 7/31 ONLY.  That's because that is the last day this register reward offer is valid.  But you can get two 12ct packs of Cottonelle Toilet paper for $3 after coupon and register rewards.
Get $3.50 RR when you buy 2 or $4.50 RR when you buy 3 Cottonelle 12 pack Toilet Paper on 07/08/11 through 07/31/11
Buy two Cottonelle 12 pack of Toilet Paper, $5 each, get $3.50 RR
Use two $0.75/1 Cottonelle Bath Tissue 7/17/2011 SS Insert (exp 8/28/2011) or two $0.50/1 off of a Cottonelle printables
PLUS use $1/1 Cottonelle toilet paper Walgreens coupon in August Coupon Booklet (will deduct $2)
Pay as low as $6.50.00 and get back $3.50 RR
It's like paying $3 for 24 rolls. You should be able to find the Walgreens coupon booklet at the entrance of the store.
Thanks Dont Make Me Nuts!