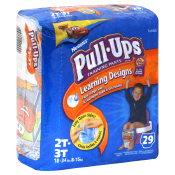 Good news!  the pull ups are included in the Huggies sale this week.  They are priced at $8.99.  Here's how to get them cheap:
Huggies Pull Ups $8.99
Use $2/1 Pull-Ups Training Pants 3/28/2010 SS #1 Insert (exp 4/24/2010) or
Use $1.50/1 Pull-ups 4/18/2010 SS Insert (exp 5/16/2010) AND stack with
Use $2/1 Walgreens April IVC (exp 4/24/2010)
Pay $4.99 each after coupons
Also, be in the lookout for the Bayer Health Advantage 40cy on clearance 50% off  or $3.29 each.  Here's the deal shared by Brenda:
Buy two Bayer health advantage $3.29 each
Use $1.50/1 Bayer Heart Advantage Product coupon or
Use two $1.50/1 Bayer Aspirin printable coupons (IE) (FF Link) PLUS
Use $3/1 Bayer in-ad coupon
FREE plus $2.42 in overage!
Please remember that clearance is not the same at all Walgreens store.
Thanks Kate and Brenda!