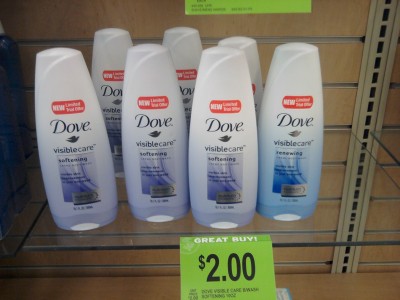 This coupon is no longer available.
In need of some cheap body wash?  Right now you can get Dove Visible Care body wash for just $0.50 each with this deal:
Buy two Dove VisibleCare Body wash 10oz $2 each
Use $3/2 Dove Products coupon (look under Personal Care)
Pay $1 for two bottles after coupon
This is  a great deal for those of you who missed out on the $3/1 Nivea Body wash coupon in the inserts last week.  It looks like this product may be located, if not with the rest of the body washes, by the Beauty Counter Area.
UPDATE: It looks like not all stores may have this size at this price.  Make sure to check on the displays near the Beauty Counter area.  That's where people are reporting finding it.
Thanks, Clipping with Carie!