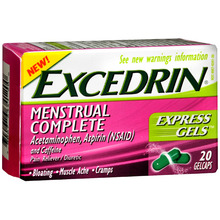 There is a monthly register reward offer on Excedrin Menstrual 20ct: Buy one 20ct Express Gels and Earn a $2 RR back. Excedrin is on sale this week. The King's Court confirmed this morning that the Excedrin Menstrual type IS included in the sale. BUT make sure to price check as it seems the product is not tagged with the sales price. Here's how to turn this into a moneymaker:
Excedrin Menstrual Complete Express Gels 20ct $2.50
Use $2/1 Excedrin printable coupon
Pay $0.50 plus tax out of pocket and earn a $2 RR back!
Also, here's a little tip: check the ingredient list on this variety of Excedrin and you may find that they are the same for a few of them.
Thanks Cristi!