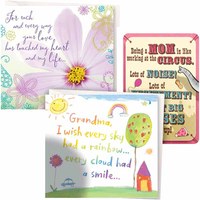 This week Walgreens is running a register rewards promotion on Hallmart greeting cards: Buy 8 or more Hallmark cards and get back a $5 register rewards, or buy four cards and get back $2RR.  Some of the cheapest cards are the kids cards that sell for $0.49 and there are regular cards that sell for $0.99, so you could:
Buy eight Hallmark cards $0.49-0.99
Pay somewhere between $3.92-7.92
Get back $5 register rewards
From what I am seeing reported your stores may not carry a whole lot of $0.49 cards but hopefully enough $0.99 ones.  Personally i can't believe how ridiculously expensive greeting cards can be.
Thanks Wild for Wags and Coupon Cravings!