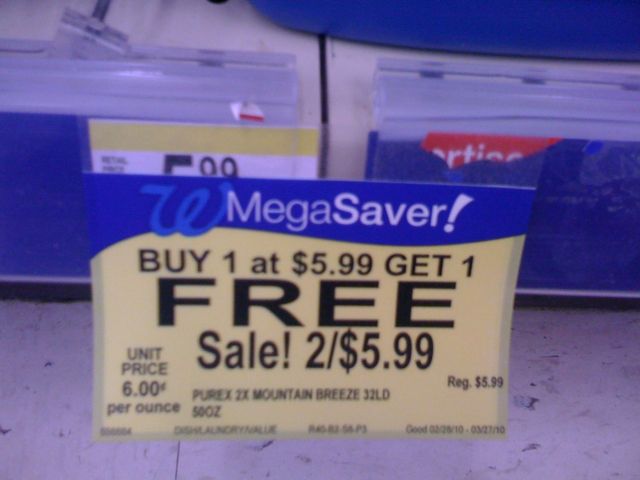 Hot Deal Alert!!  I just came back from my local Walgreens where I noticed that Purex Liquid detergent is on MegaSaver sale buy one get one free.  Here's how you can get it free
Purex Detergent on sale BOGO or 2/$5.99
Use B1G1 Purex Liquid Detergent or 3-in-1 Sheets, exp. 3-6 (RP 2/21/10)
Get two free after coupon
This coupon expires this week so awesome timing for this sale.  Also, please note that some cashiers may ask you to "buy one" in order to get another free.  If that's the case make sure to get four and you will end up paying $5.99 for four bottles.  That makes it $1.25 each.
Also here's how you can get better than free Nivea Lip products
$7.98 when you buy two Nivea Lipcare $2.99-3.99
-$3.99 when you use B1G1 Nivea Lip Care Product, exp. 3-7-10 (RP 02/07/10)
-$6 when you use $0.99 in ad coupon (will deduct $2 or $3 each to adjust price of each item down to $0.99 each)
Get two free PLUS up to $2.01 in overage after coupons
Also cheap Dentyne gum:
Dentyne Gum $0.69 after in-ad coupon
Use $1/2 Dentyne Gum Single Packs, exp. 4-25-10 (SS 02/28/10)
Pay $0.19 each after coupons
Remember to always hand your manufacturer coupon first and the in-ad coupon last.
Happy Savings!