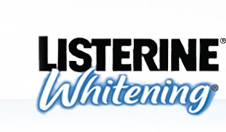 This week there is a $3/1 Listerine in ad coupon available in the weekly Walgreens sales circular.  Katrina emailed me to share that she found 16oz Listerine Post Whitening Plus Restoring Rinse at Walgreens for $6.99.  The bottle ad a $3/1 manufacturer coupon on it.  she used that coupon plus the one in the sales circular to get the bottle for only 99 cents. There is also a $2/1 Listerine printable you can use.
Here are two other deals shared by you:
Johnson and Johnson baby bath products on clearance for $2.24
Use $1/1 Johnson's Baby Bubble Bath & Wash (FF) or Printable (IE) or
Use $1/1 Johnson's Baby product 4/25/2010 SS Insert (exp 7/5/2010)
Pay $1.24 each after coupon (Thanks Peter!)
Renpure Shampoo and conditioner on sale buy one get one free
Look for try me free tags to get two free (Thanks Michelle)
It also seems the Renpure rebate doesn't have a one per household limit. This rebate has been around for a while. Has anyone taken advantage of this offer?