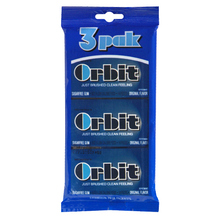 I knew that $1/1 Orbit gum printable coupon would make for cheap gum at Walgreens.  And we didn't have to wait long either.  This week Walgreens has multi-packs of Wrigley's gum on sale 2/$3.  Orbit Gum multi-packs are included in this sale. Use this $1/1 Orbit gum printable coupon (click on food to find it easier, print it twice) to get the multi-pack gum for 50 cents each.
Updated to add that this is an unadvertised deal. I stopped by my local store who is usually really good about tagging everything and these were not tagged.  But I had them price checked and they did ring up $1.50.  Walgreens.con also shows them on sale for $1.50 each.  So PRICE CHECK!
There's also a good deal on Venus razor and Olay Body Wash:
Venus Embrace 3 pack Razor System $8.99, Earn a $4.00 RR when you buy one
Use $2.00 off any 1 Venus Embrace Razor (Proctor & Gamble insert 2/7/10)
Use FREE Olay Body Wash Coupon when you buy any Venus Embrace System (Proctor & Gamble insert 2/7/10)
Pay $3.00 for both items after coupon and register rewards (Thanks King's Court!)
Please note that the Free Olay body wash coupon will beep in order to prompt cashier to enter cost of the body wash.
I love Walgreens!