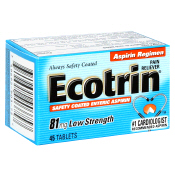 Here's a sweet deal that I thought deserved some special attention.  As I posted on the weekly coupon match ups for this upcoming week at Walgreens, Ecotrin will be on sale for $1.99 each after in-ad coupon.  You could use the $2/1 coupon from the 10/11 RP insert to get it free or you could use two other coupons to get an even better deal.  In that same insert (10/11 RP inserts) there were two coupons for $10/3 and $7/2 Advantage Brands products (Ecotrin is included) that can get you the following deal:
$17.45 when you buy five Ecotrin 45ct boxes (Reg price $3.49-3.79)
-$10 when you use one $10/3 coupon from 10/11 RP insert
-$7 when you use one $7/2 coupon from 10/11 RP insert
-$7.50 deducted by the in-ad coupon to bring the price of the Ecotrin down to $1.99
=$7.05 in overage!
The store won't hand you back any cash, so you need to add items to your order to absorb this overage.  Personally I am going to add some Bounty Paper Towels.  Remember to hand the manufacturer coupons first and the in-ad coupon until the end.
Thanks Surviving the Stores!