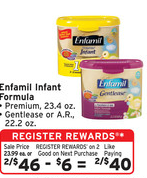 This week Walgreens has Enfamil formula on sale for $23 each can.  but you can get it for just $13 per can with the following deal:
Enfamil Infant Formula 2/$46, Get a $6 RR when you buy two
Use two $5/1 Enfamil Formula coupon (use zip 30003)
Use $2/1 Enfamil Infant Formula Powder Walgreens Infant Care Booklet (should deduct $4)
Pay $32 and get a $6 Register rewards back
That's like paying $26 for two cans or $13 each. Plus if you have any formula checks, you can use those to pay and lower your out of pocket expense.