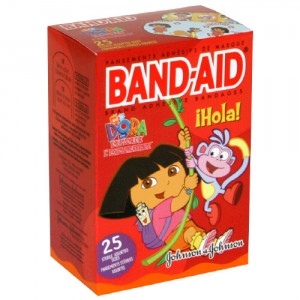 If you remember last week there was a Register rewards deal including Band Aid Products: buy two and get a $4 register reward.  This is actually a monthly deal.  This means you can still get the $4 register reward when you buy two Band Aid Products from now through 8/29.  It turns out the character Band Aids are also included in this deal.  They are not on sale this week but there's a coupon in the Walgreens Coloring book for $2 off one.  This is how you can get them for better than free after coupons and register reward:
$7.58 when you buy two boxes of Character Band Aids (Dora, Barbie or Sponge Bob)
-$2 when you use two $1/1 manufacturer coupons from 8/2 or 6/28 RP inserts (some areas only got $0.50/1)
-$4 when you use the $2/1 coupon in the Coloring Book (coupon discount gets applied to both items)
=$1.78 plus tax out of pocket and get a $4 Register Reward back.
If you have been getting the free Easy Mac cups this is a good way to use up those $1 register rewards you have been getting.  If you have little ones you know you need Band Aids and the best part is that Band Aids can be stockpiled easily.  Thank you Brandi for confirming this deal for us!