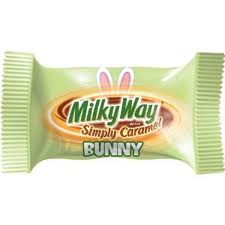 Yummy! I am not big on chocolate but I could get behind this deal as I do like Milky Way.  You can get FREE Milky Way Bunnies at Walgreens.  Check today's inserts (3/18) for a $1/2 Mars Easter Candy coupon that has no size restrictions.  The Mars Milky Way Bunnies sell for 2/$1 (must buy two).  Use your coupon to get them free.
If you are in no rush to get your free chocolate, you may want to hang on to your coupon.  These MAY go down as low as 39 cents each if we get a sale on them and that way you can "stretch" your coupon.
Thanks Wild for Wags!