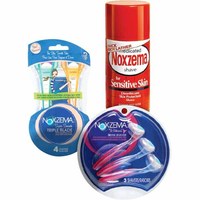 This week (5/23-5/29) Walgreens has Noxzema razors on sale buy one get one free or 2/$2.99. There are a couple of coupons available to help you get these free:
Noxzema Razors 2/$2.99
Use two $2/1 Noxzema razor coupon from 5/23 RP insert or
Use two $2/1 Noxzema Razor printable
FREE after coupons
The second coupon will probably beep because of the overage, in which case you may end up paying 99 cents for two.  I think that's still a good deal.  This week I am going to be using this as a filler so I can roll my register rewards from last week.
Thanks Kristina, Stephanie and Passion for Savings!