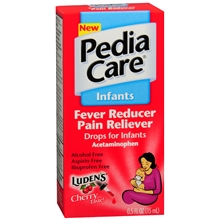 Moms of little ones don't miss out on this great freebie!  This week  you can pick up Pediacare for children or infants for totally FREE at Walgreens with this deal:
Pediacare products As low as $5.99
• Fever Reducer, Cold or Allergy Relief, 4 oz.
• Infant Drops, 0.5 or 1 oz.
Use $3/2 PediaCare Product (zipcode 90210 or 60712, look under Healthcare)
PLUS Use $5/1 in ad coupon
FREE after coupons
I just came back from picking up four bottles of Infant Pediacare.  You think that's a lot?  Each bottle only has 0.5oz in it.  They don't last very long at all!!  Always make sure to follow directions when giving over the counter medicine to your children.