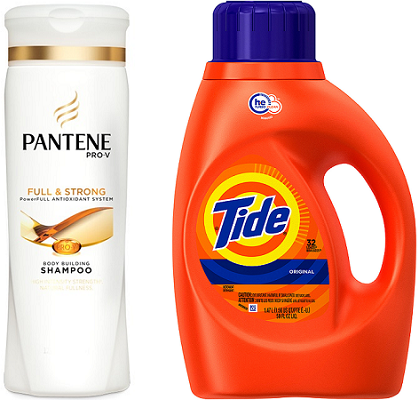 Wow! Hurry over and check your Walgreens Balance Rewards account to see if you have a new Spend $20, Get 7000 points back coupon to clip!
Even sweeter: if you use your Visa card to pay, you'll receive an additional 7000 points!
That's basically like $14 back in buying power on a $20 purchase — before any other coupons are added!
So IF you received this coupon like I did, it will make for a really excellent deal on Tide and Pantene.
Check out the math below:
Pantene — on sale 3 for $12, plus 10,000 Balance Rewards points (like $10 in buying power) when you buy $30 of assorted P&G products.
Tide — 32-load bottles on sale for $5.94 each, and also part of that Spend $30, Get 10,000 Balance Rewards points offer.
Buy three bottles of Pantene and four bottles of Tide for a pre-coupon price of $33.96.
Use the $5 off 3 Pantene coupon from the 7/31 P&G insert and four $2 off Tide coupons, also from the 7/31 P&G inserts.
Pay $20.96 out of pocket for all seven items, plus receive a combined 17,000 Balance Rewards points (10,000 from the P&G offer and 7000 from your clippable coupon.)
So your final price drops to $3.96 for everything, or just 57 cents apiece.
If you paid with Visa, your points bump up to 24,000 Balance Rewards points. That means everything is FREE and then you'll have about $3.04 in profit on your purchase.
BRB; going to Walgreens!