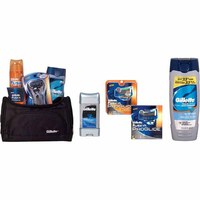 This week the Walgreens deals are smoking HOT.  There is another double dipping deal on Gillette products this week.  the two register rewards offers involved are:
Get a $10 RR when you buy $30 in select Gillette products
Get a $5 RR when you buy one Gillette Fusion Razor
At the moment the Gillette Fusion razor is also included to count towards the $10 wyb $30 deal.  but I must tell you, this may stop working at any time.  but here is the deal you can get if you are willing to give this a try:
Buy 4 Gillette Body Wash @ $4.99
Buy 1 Gillette ProGlide Razor (I purchased the kit) $9.89
Buy 1 Gillette Fusion Ultra HydraGel $3.50
Use (2) BOGO Gillette Body Wash from PG 6/5
Use (2) $2/1 Gillette Body Wash from 5/15 RP
Use (1) $4/1 Gillette Fusion ProGlide Razor 6/5 P&G Insert
Use (1) $1/1 Gillette ProGlide or Fusion Shave Prep 6/5/2011 P&G Insert
Pay: 14.37, receive $10 RR, and Receive $5 RR From Gillette Razor
That's like getting it a bit better than free.
Thanks, Coupon Connections!