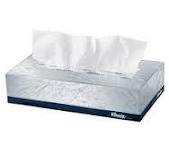 Just in time to stock up for cold season!  Now through 9/30 Walgreens has a new monthly Register Reward on Kleenex.  There is also an upcoming sale starting 9/16 that will give you the greatest savings overall.  Here are the details:
Monthly Register Reward valid 9/3 – 9/30: Kleenex Tissues 50 ct+ Get a $1 RR WYB (5), $1.50 RR WYB (6), $2 RR WYB (7)+
Walgreens Scenario Starting 9/16:
Buy (3) Kleenex 70 ct – $0.99 (with in-ad coupon)
Buy (3) Kleenex 100 ct- $0.99 (with in-ad coupon)
Use (2) $0.50/3 Kleenex Product from SS 8/12 (exp 9/23) or
Use (2) $0.40/3 Kleenex Facial Tissues Boxes
Pay $4.94, get back $1.50 RR wyb 6
That works out to be just $0.57 per box after coupons and rewards!  Check out all the best Walgreens deals here.
Some stores are more easy going than others so please be advisded.  The limit on the in-ad coupon is 3 but If there is enough stock and you mix the deal with the 70 ct and 100 ct boxes, you may not have an issue.  This is at the discretion of the store staff so proceed at your own risk.
Thanks Wild for Wags