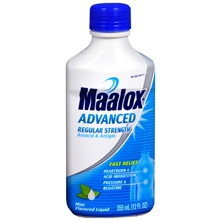 There was a high value $5/1 any Maalox product coupon available in yesterday's coupon inserts (1/9).  This coupon makes this product free at retailers like Walmart or Target.  But at Walgreens you can get it better than free if you have a few of these coupons on hand.  Here is the deal:

Buy six Maalox Suspension Mint Liquid 12oz $5.99
Use six $5/1 Maalox 1/9/2011 SS Insert (exp 3/1/2011)
Pay $5.94 plus tax out of pocket and get back one $10 register rewards
Maalox is part of a monthly register rewards (runs through 1/29): Buy any participating Ex-Lax, Gas-X, Maalox or Prevacid and receive a register rewards. Buy $20, get a $5 RR. Buy $30 get a $10 RR. I know there are some of you that are lucky enough to get multiple newspapers, so this is a good way to use all of those extra coupons.