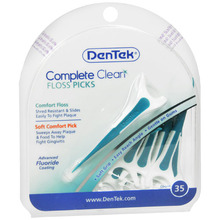 I was at my local Walgreens yesterday looking for more Dentek Picks because I really liked them.  Unfortunately, the delivery truck didn't bring anymore in.  I did notice however that this register rewards deal was tagged and had an ending date of 10/31/09.  The picks were on sale last week for $2 each and have now gone back up to $2.79 each.  This is how you can still get them for free:
Dentek Tooth Picks $2.79, Receive $2 RR wyb one
Use $1/1 printable coupon
FREE plus $0.21 in overage after coupon and register reward
Also, remember the Theraflu moneymaker deal from last week?  Well, this register rewards offer is also a monthly deal and it is advertised in the ad for the week of 10/18-10/24 (pg 16).  That should give you time to get your hands on those Healthy Savings coupon booklets.
Theraflu 8.3oz Liquid 3/$14.97, Earn a $8 RR wyb three
Use $2/1 coupon from Walgreens Healthy Savings coupon booklet (one coupon will deduct $6)
Pay $0.97 for three after coupons and register rewards
If you are lucky to have a Publix near you, Jaime from Chatanooga Cheapskate left a comment that she found a coupon booklet by the Publix Pharmacy area called "What Ache?"  that has a coupon for $2 off one Theraflu.  These should make this deal a moneymaker.
Happy Savings!