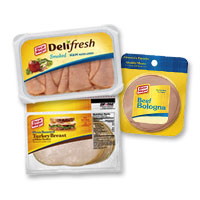 This week Walgreens is selling Oscar Mayer lunch meat 2/$5.  But there is also a nationwide catalina offer on Oscar Mayer lunch meat (advertised on the Coupon Network) that is also working at this store.  You could get each package for $1.25 with this deal:
Buy 4 Oscar Mayer Deli Fresh Shaved Meat, 9 oz $2.50 each
Use two $1/2 Oscar Mayer Deli Fresh or One Pound Shaved Lunch Meats, any from 5/15/11 SS
Pay $8 plus tax out of pocket and get back one $3 register rewards
That's like paying $5 for all four packages or $1.25 each.
Thanks, Wild for Wags!