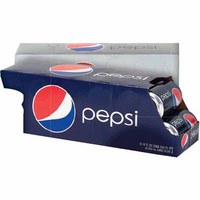 I just looked at my local Walgreens ad online and noticed that the 12 packs of Pepsi were 5/$15, which is a much better deal than  3/$12 as was supposed to be on the preview.  Please note that soda prices are regional so not all of you may not have gotten this price but if you did here's a new deal idea:
Buy five Pepsi 12 packs $15
Buy one Tostitos Chip and Dip $5
Use $1 off two coupon from January All You Magazine
Pay $19 plus tax out of pocket and earn a $10 coupon off your next order back.  That's like paying $1.28 per item.
I think it's time to stock up for that super bowl party!  You may also want to check your grocery store for coupons as some stores have a tear pad for free dip when you buy chips coupon.   If you submit for Coors Light Rebate available for the following States: AL, AR, CT, HI, KY, LA ME, MN, MO, NC, NJ, NY, SD, UT, VA,VT AND WV.  That would make this an even better deal.  WI readers you may want to check your local Pick N Save for a Coors Rebate form that includes the state of WI.  Thanks Tracy!
If you are stocking up for this party you may also want to check on this deal:
Planters Peanuts $1.99
Use $1/1 coupon from Diabetes And You magazine
Use $1/2 coupon from 12/13 SS insert
Pay $0.49 each after coupon  (Thanks Heather and Saving a Bundle!)
What's your plan if you are rocking this deal?