I received an email this morning from reader Kimberly with the heads up on the following deal. I just got my own kit at my own local store:
My local Walgreen's has their photostamps.com kits on clearance for $7.19. I've already bought two kits and used them with no problems. This is a 23.00 value as the kit gives you a code to use on photostamps.com for 20 stamps and s/h. What's crazy about this is that 20 stamps from the post office would be $8.80, so you save $1.60 on the regular stamp price and get some cool photo stamps in the process. The kits don't appear to have an expiration date, so I bought two extra kits to use at Christmas time.
This is what the kit looks like: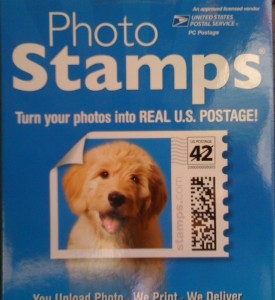 Thanks Kimberly! Great way to save money on stamps and get personalized stamps in the process.