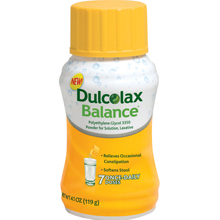 I just checked the updated list of Monthly Register Rewards deals, and saw that there are two moneymaker deals to be had:
Dulcolax Balance $7 (7 Day, 4.1oz), Earn a $4 RR wyb one*
Use $3/1 coupon found on package or $3/1 printable coupon
Submit for $5 rebate found here
FREE plus up to $5 in overage after coupon, register reward and rebate
Thanks Scarlett for checking up on the store price for us.
There's also a  new moneymaker deal on Theraflu:
Theraflu $5 each, Earn a $3 RR wyb two
Use two $2/1 coupon from 10/18 inserts (some areas got a $3 off one)
Use one $2/1 coupon in Healthy Savings Booklet
Pay as little as $0.00 out of pocket (if you got the $3/1 coupons) and earn a $3 RR back.
There's also a register rewards deal going on on Nabisco Crackers: Spend $10, Earn a $3 RR back. There's a coupon for $1 off two Nabisco Cracker printable coupon available on Smartsource.com. I am sure the crackers will go on sale before the end of the month. I am not sure the coupon will still be there so you may want to print just in case.
These three deals are monthly deals and should run through 11/28/09.
See the full list of monthly RR deals reportedly available
here
.  In case you were wondering where this list comes from, the information comes form other shoppers and Walgreens employees around the US who helpfully provide this information to bargain shoppers like you and me.