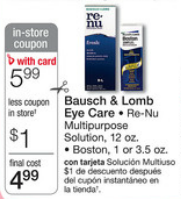 I mentioned this great deal in my weekly matchups but I wanted to remind you that this offer is valid through 1/26.  Print your coupons and grab the following deal:
Bausch and Lomb ReNu Multipurpose Solution 12 oz – $5.99
Use $2/1 Bausch & Lomb Renu Multi-Purpose Solution, 8 oz+ or
Use $2/1 Renu Fresh or Renu Sensitive Multi-Purpose Solution
PLUS $1/1 Bausch & Lomb Boston or Renu Multipurpose Solution Eye Care Walgreens IVC Booklet, January
Pay $2.99 each after coupons
That's a pretty good price for this product.  Check out the other Walgreens deals here.