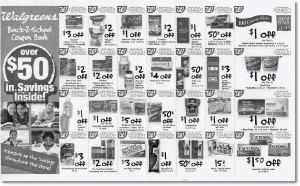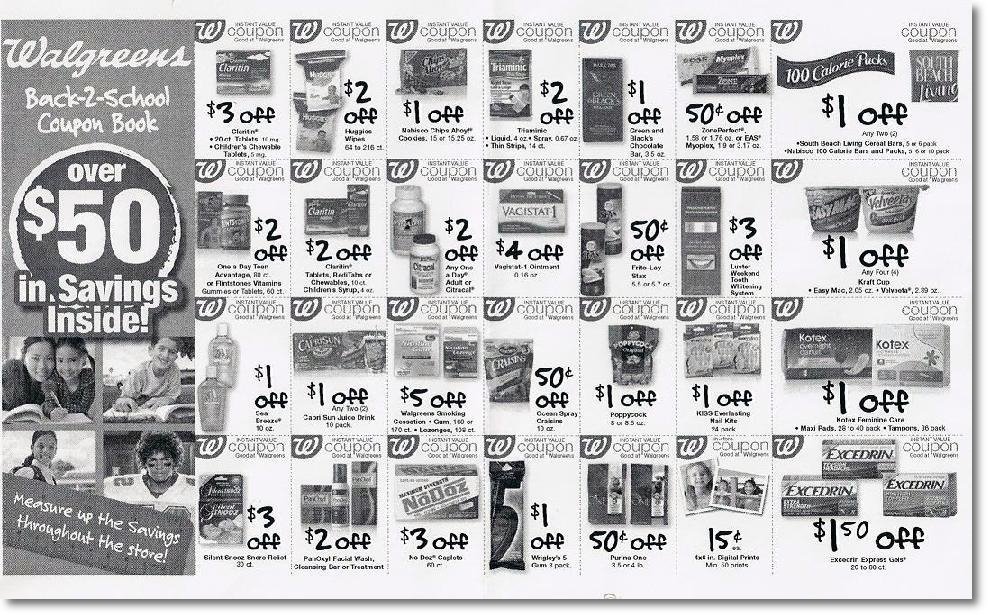 Thanks to I Heart Wags I can share how the back to school booklet looks like.  This should make it a bit easier to be on the hunt for them.  I would *love* to get my hands on one of these booklets as it has a coupon for $2/1 Huggies wipes that works on the tubs.  The tubs at my store sell for $2.79 and if I stack with a insert coupon for $0.50/1 I should pay $0.29 a tub of wipes which I am very happy to do.  So, if YOU find more than one and would like to share with me I would be forever grateful.  Here's the list of all coupon in this booklet:
100 calorie packs $1 off 2
Capri Sun $1 off 2
Chips Ahoy $1 off
Claritin $2 off
Claritin $3 off
digital prints $.15 each
Excedrin Express Gels $1.50 off
Frito Lay Stax $.50 off
Green and black chocolate $1 off
Huggies wipes $2 off
KISS everlasting nail kits $1 off
Kotex pads or tampons $1 off
Kraft cups $1 off 4
Luster weekend tooth whitening $3 off
No Doz caplets $3 off
Ocean Spray craisins $.50 off
One a day adult $2 off
One a Day Teen $2 off
Panoxyl facial $2 off
Poppycock $1 off
Purina one $.50 off
Sea Breeze $1 off
Silent Snooz snore relief $3 off
Triaminic $2 off
Vagistat – 1 $4 off
Walgreens smoking cessation gum $5 off
wrigley's 3 pk $1 off
Zone Perfect $.50 off
They all expire 8/29/09.  Happy Hunting!