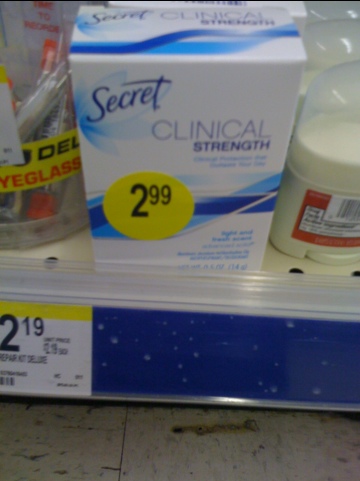 This week Walgreens has a register rewards offer on travel size items:  Buy $10 worth and get back one $3 register rewards.  I stopped by my store to see if there were any deals to be had with this offer and found this one:
Buy four Secret Clinical deodorant $2.99
Use four $2/1 Secret Clinical Strength Deodorant 2/27/2011 PG Insert (exp 3/31/2011)
Pay $3.96 and get back one $3 register rewards back.
I also noticed that Walgreens carries Degree deodorant in travel size $0.99.  There is a $1/1 Degree deodorant coupon in today's (3/27 RP insert). It looks like the coupon doesn't exclude trial size.  So, if you have enough of those you could get a great deal too.
Another deal idea is with the Dial Nutriskin Lotion $0.99.  There was a $1/1 ANY Dial Nutriskin coupon in the 3/13 RP inserts.  You could use that to get another good deal with this register rewards promotion.