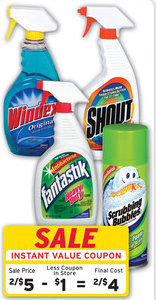 This week Walgreens has Shout Spray on sale 2/$5.  but you can get it for $1 each with the following deal:
Shout Spray 2/$5
Use $1/1 any Shout Product coupon
PLUS use $1/2 Windex, Fantastik, Scubbing Bubbles, Shout Walgreens IVC
Pay $1 each after coupons
It's not free but its a price I am happy to pay.  With three little ones I have recently learned how much I need shout to get stains out their clothes.
Thanks, Jennifer!