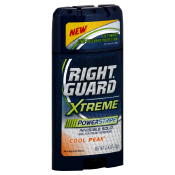 I received a couple of comments from readers stating that they did not receive a $5 register reward when they bought Right Guard Xtreme deodorants.  This is one of the items included in the RR deal this week per the Walgreens weekly ad.  It has been confirmed on HCW that this variety is not included and this was a misprint.  Only the Right Guard professional and Dry Idea Clinical are included.  You may get lucky and find a $2/1 coupon on the Right Guard professional and You can use the $2/1 Dry Idea clinical printable coupon on the roll on type of this deodorant.
I am also reading reports of the following clearance finds at Walgreens in the past couple of days:
Contact 3M Hooks for $1.39-$1.19 each.  This $2.50/1 printable coupon can help you get them FREE.
Goodnite night pants on clearance for $2.79 per pack (new packaging coming out for these ones) on clearance for $2.79.  Use $1.50/1 coupon from 5/17 insert to get them for 1.29 cents each or use this $2/1 printable coupon.
Tylenol Sinus Congestion and Pain on clearance for $1.79.  Buy two and get a $3 Register reward this week.  Use $1/1 coupon from 5/10 insert to pay $$1.68 for two after coupons and get a $3 RR back.
Huggies Pull Ups Cool Alert for $3.19.  Use $2/1 coupon from 5/17 inserts to get them for $1.19 each.
As usual, clearance prices vary by store.  However, if this is something you really need, don't hesitate to price check.  some stores take their time tagging items on clearance.