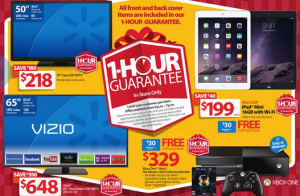 Getting excited for Black Friday? Make sure you take a peek at all of the Black Friday ad scans available on the site! If you want to get a jump on your holiday shopping, you can also check out some of our gift ideas and holiday deals.
The Walmart Black Friday sale for 2014 will be broken up into three different events:
Event 1 – Thursday 11/27/14 @ 6 PM
Event 2 – Thursday 11/27/14 @ 8 PM
Event 3 – Friday 11/28/14 @ 6 AM
A few hot ticket electronics will be covered under the Walmart 1-hour in-stock guarantee. This means that if those items sell out in the first hour of the event, from 6 PM to 7 PM, then you can purchase it anyway and have it shipped to your store by Christmas! There are a limited number of 1-hour in-stock guarantee vouchers, so make sure you get there early for those coveted items!
Some of the items listed in the Walmart Black Friday ad are available in stores only, but I expect many of the items to go on sale for roughly the same price online at the Walmart website. So, if you can't make it for the in-store sales, be sure to check the specials online!
Here's a giant list of some of the majority of the items that will be on sale during each event. The 1-hour in-stock guarantee items are highlighted in red. If you haven't already, make sure you check out the Walmart Black Friday ad for 2014!
Apparel, Shoes, and Accessories
Item
Price
Reg Price
Event
RealTree or Mossy Oak hoodie
(Men's or women's)
$10.00
1
Pajamas – infant, toddler, and kids
$4.50
1
Boys' Starter or Girls' Avia performance sets
$8.00
1
Boys Wrangler or Girls' Jordache jeans
$8.00
1
Boys' AND1 or Girls' Avia sneakers
$8.00
1
Boys' or Girls' character underwear (3-pack)
$8.00
1
Boys' or Girls socks
(10-pack ankle or 7-pack crew)
$8.00
1
Ladies' microfleece sleep pants
$4.00
1
Danskin Now microfleece jacket or pants
$6.00
1
Ladies' Avia sneakers
$9.75
1
Ladies' CuddlDuds 2-pc fleece set or fleece blanket
$9.00
1
Ladies' Genie bra
(2-pack)
$9.00
1
Juniors' tank and yoga pant set
$9.00
1
Ladies' 3-pc sleep set, velour set, plush robe, microfleece PJ, or Fruit of the Loom 3-pc sleep set
$10
1
Ladies' leggings
(2-pack)
$7.00
1
Ladies' plush jacket
$10.00
1
Ladies' 2-pack scarves
$4.00
1
10K gold CZ earrings or 14K white gold over sterling silver hoops
$5.00
1
Ladies' Knee socks
(6-pack)
$4.00
1
Mens' watch or ladies' stackable watch and bracelet set
$8.00
1
Mens' RealTree or Mossy Oak thermal shirt
$6.00
1
Mens' character fleece sleep pants
$6.00
1
Mens' Starter microfleece jacket or pants
$6.00
1
Mens' water repellent Mossy Oak hoodie
$9.75
1
Mens' Wrangler jeans
$9.75
$16.77
1
Mens' Dickies work socks
(5-pack)
$4.00
$8.77
1
Mens' Faded Glory flannel shirt
$7.00
1
Mens' AND1 track set
$11.00
1
All Hunting Apparel
30% Off
Fri
thru
Sun
Electronics
Item
Price
Reg Price
Event

50″ LED HDTV




(Brands vary by store)

$218.00
$398.00
1

65″ Vizio Smart LED HDTV

$648.00
$698.00
1

iPad Mini 16 GB

$199.00
+$30 Gift Card
$239.00
1

Xbox One Halo: The Master 

Chief Collection Bundle

$329.00
+$30 Gift Card
—
1

RDA 7″ 8 GB tablet

$29.00
$59.99
1

LG Blu-ray player

$35.00
$58.00
1

Beats by Dr. Dre Wireless 

Bluetooth Headphones

$149.00
$279.95
1

Straight Talk Samsung Galaxy Ace Smartphone

$29.00
$129.88
1

HP 15.6″ Intel Celeron Touchscreen Laptop




(4GB Memory, 500 GB Hard Drive)

$249.00
—
1
Xbox One Assassins Creed Unity Bundle
$329.00
$399.96
1
Xbox Live 3-month card
50% Off
$24.99
1
Xbox 360 (4 GB)
$99.00
1
Turtle Beach XO1 Headset
Xbox One
$44.96
$79.95
1
Xbox One Controller
$39.96
$79.00
1
Playstation 4 + $50 Gift Card
$399.00
+$50 Gift Card
$399.00
1
Disney Infinity 2.0 Starter pack
$37.00
$74.00
1
Skylanders Trap Team Starter Pack
$37.00
$74.00
1
Select DVD + Blu-ray
$1.96 –
$9.96
1
Element 60″ Class LED HDTV
$498.00
$698.00
2
HP 15.6″ Intel Celeron Laptop
(4GB Memory, 500 GB Hard Drive)
$159.00
$229.00
2
32″ LED HDTV
(Brands vary by store)
$98.00
$168.00
2
32″ to 60″ Samsung Smart HDTV
$248.00
to
$798.00
$328.00
to
$998.00
2
50″ Vizio Smart LED 4K Ultra HDTV
$698.00
$998.00
2
55″ Samsung Ultra HD Curved Smart TV
$1,298.00
2
Google Chromecast Streaming
media player
$25.00
$35.00
2
Roku 1 Streaming medai player
$28.00
$48.00
2
HP 11″ Streambook
(2 GB Memory, 32 GB Hard Drive)
$199.00
+$25 Gift Card
2
Acer 11.6″ VS Angel Touchscreen laptop
(4 GB Memory, 500 GB Hard Drive)
$199.00
2
RCA Pro 10″ tablet with keybord folio case
$79.00
2
7″ Dual Screen portable DVD player
$49.00
$69.00
2
Nabi 2 Nickelodean edition tablet
$99.00
$179.99
2
Samsung Galaxy Tab 3 Lite 7″ tablet
$99.00
$139.99
2
Nextbook 8″ Windows tablet
$99.00
2
iPad Air 16 GB
$397.00
+$100 Gift Card
2
iPod Touch 16 GB
$195.00
+$30 Gift Card
2
Beats by Dr. Dre Pill portable speaker
$99.00
$199.00
2
AT&T Tribute on GoPhone
(Android 4.4 Kitkat)
$39.00
$99.88
2
Moto G on Verizon Wireless
(Android 4.4 KitKat)
$39.00
$99.88
2
ZTE Mobile Hotspot on Straight Talk
$49.00
$50.88
2
Fujifilm 16 MP Long Zoom Camera
$119.00
$179.00
2
Canon Rebel D5 dSLR camera and
2 lense bundle
$449.00
$599.00
2
Nikon Coolpix L29 16.1 MP camera
$47.00
2
AT&T 3-handset cordless phone
$34.00
2
Samsung Galaxy S 5
(With a 2-yr contract)
$99.00
$139.00
3
Household and Outdoor
Item
Price
Reg Price
Event
Electronic fireplace
(Models may vary by store)
$45.00
1
Heatwave Infared tabletop console heater
$39.00
1
Intex 17″ Elevated Quen Airbed
$24.97
1
Stanley rolling tool chest
(24.6″ W x 11.8″ D x 37″ H)
$79.00
1
Stanley 252-pc mechanics tool set
$49.00
1
1,500 PSI Power Washer
$69.00
$89.00
1
Black and Decker 133-pc 18V NiCAD Drill project set
$69.00
1
5-gallon wet/dry shop vac
$19.97
$39.97
1
Sentry combination lock floor safe
$97.97
$146.97
1
Campbell Hausfield 2-gal compressor
$49.97
$74.97
1
Hotel Style 800 thread count luxury sheet set
Better Homes and Gardens 525 thread count sheet set
(full, queen, or king)
$25.00
1
Better Homes and Gardens 9-pc comforter set
$34.96
1
Smartfoam 3 Cushioning Support memory foam topper
$31.96
1
Character 4-pc twin bed set with reversible comforter
$34.96
1
12-opening collage frame
$5.96
1
Better Homes and Gardens 30″ clock
Better Homes and Gardens 30″x42″ mirror
$19.96
1
Cotton Inc bath towel or 6-pack washcloth set
$1.74
1
Rachel Ray 15-pc porcelain enamel nonstick cookware set
$89.00
1
T-fal 18-pc cookware set
$49.00
1
Rival 2-slice toaster, 2-qt slow cooker, or mini chopper
$4.50
1
Black & Decker griddle, waffle maker, or 12-cup programmable coffee maker
$9.77
1
Crock Post 5-qt slow cooker in stainless steel
$9.77
1
George Foreman Grill
(3 serving)
$9.77
1
Better Homes and Gardens 18-pc mix and measure set
(5 bowls and lids, 4 measuring spoons, and 4 measuring cups)
$9.77
1
Ninja professional single-serve blender
$35.00
1
Rubbermaid 26-pc Takealongs container set
$6.98
1
Rubbermaid 28-pc Easy Find Lids set
$6.98
1
West Bend triple slow cooker
$19.00
1
Pyrex 24-pc set
(Glass bowls and lids)
$19.00
1
Rival hand stand mixer
$15.00
1
Presto GranPappy 6-serving fryer
$15.00
1
Corelle 10-pc dinnerware set
$15.00
1
Shark Easy Spray Steam mop
$39.00
$69.00
1
Dyson DC33 multi-floor bagless upright vacuum
$199.00
$349.00
1
Eureka AirSpeed One Turbo bagless upright vacuum
$39.00
1
Bissell Advanced ProHeat Pet Deep Cleaner shampooer
$98.00
$143.00
1
Fireplace media console
$158.00
1
31″ storage ottoman
$29.00
1
4-burner gas grill with side burner
$99.00
$158.00
1
Gas patio heater
$88.00
$128.00
1
Artificial Christmas Trees and Christmas Lights
30% Off
Fri
thru
Sun
Tires
$49.00
to
$119.00
$70.00
to
$149.00
Fri
thru
12/7
All Firearms
20% Off
Toys, Arts and Crafts, and Sports
Item
Price
Reg Price
Event
Wooden train Table
$40.00
1
Sesame Street Let's Rock Elmo
$15.00
$29.97
1
VTech Go! Go! Smart Wheels Train Station
$25.00
$49.97
1
Thomas and Friends 5-in-1 train set
$20.00
$19.97
1
Cra-Z-Art sand
$5.00
1
Singing machine Karaoke
$49.00
1
Disney character guitar
$10.00
$19.97
1
Select Games
(Monopoly, Jenga, Hedbanz, and More)
$4.88
to
$8.88
1
Vtech Sit-to-Stand dancing tower
$20.00
$39.98
1
Summer Infant 3-stage SuperSeat
$20.00
$36.00
1
Bright Starts Around We Go activity station
$49.00
1
Select 28″ plushes
(TMNT, Spider man, Minnie, Mickey, Elsa, and Sponge Bob shown)
$10.00
1
Fisher Price Little People Garden Tea party Set
$20.00
$19.97
1
Jake and the Neverland Pirates Magical Tiki Hideout playset
$15.00
1
Little Tikes kitchen playset
$40.00
1
Disney Snow Glow Elsa
$28.88
$32.88
1
Disney Doc McStuffins Deluxe Doctor Set
$35.00
1
Barbie Ultimate Beach House
$35.00
1
Disney Princess Ultimate Dream Castle
$75.00
1
Disney Cheerin Minnie
$25.00
$44.97
1
My Little Pony, Friendship in Magic Pinkie Pie figure
$15.00
1
Disney Princess 20″ interactive princess doll
$20.00
1
Flutterbye Flying Fairy doll
$16.00
1
32″ Walking doll
$10.00
1
Select dolls
(Includes Barbie, Disney Princess, Disney Fairies, and Monster High)
$5.00
1
Baby Alive Baby's New Teeth doll
$10.00
1
FurReal Friends GoGo My Lovin Puppy
$35.00
$49.00
1
Nerf Rebelle Sweet Revenge Blaster
$9.00
1
1:10 RC Sports Car or 1:14 RC Truck
$20.00
$39.97
1
1:8 RC Jeep
$49.00
1
Hot Wheels Spider Man or Monster Jam track set
$20.00
1
Tonka Titans Fire Engine
$25.00
1
Hot Wheels 9-ppack cars
$5.00
$9.47
1
Nerf N Strike Spectre Rev5 Blaster
$10.00
$19.97
1
Jakks 20″ action figure 2-pack
(Includes Batman, Star Wars, and Superman)
$20.00
1
Lego Creative Tower or Duplo Giant Tower
$30.00
1
Air Hogs RC Atmosphere
$10.00
$19.88
1
Disney Planes Tilt n' Fly RC plane
$25.00
$39.97
1
Razor Ripster Casterboard
$29.00
1
Razor Spark 2.0 Scooter
$39.00
$69.97
1
Razor Flashrider 360
$49.00
$79.00
1
Huffy 16″ Green machine
$49.00
1
Radio Flyer Ziggle
$29.00
$48.72
1
Character Scooter
(Includes Frozen, TMNT, Cars, Princess, and Spider Man)
$15.00
1
Pogo Stick
$15.00
1
Step2 Motorcycle
$19.00
1
Step2 Little Helper Wagon
$19.00
1
Convertable Skates
(Disney Princess or TMNT)
$15.00
$29.96
1
10″ – 26″ Bikes
$19.00
to$69.00
1
Pulse Lightning 24V Electric Scooter
$69.00
$99.00
1
Razor Pocket Mod Electric Scooter
$199.00
$279.00
1
12-in-1 multi-game table
(Includes air hockey and basketball)
$70.00
1
48″ Air Hockey Table
$29.98
1
Crayola Color Wonder Kit
$5.00
1
Crayola Color Station
(200 pcs)
$15.00
1
Crayola Color Lab Super Tip markers or Twistables crayons
$8.88
1
Art Easel
$15.00
1
Tasco kids' science set
(Includes microscope and telescope)
$20.00
1
Kids 4-pc camping combo
(Includes tent, sleeping bag, flashlight, and duffel bag)
$17.00
1
46″ Portable basketball hoop
$79.00
1
Franklin football, basketball, or soccer ball
$4.50
1
14′ Trampoline
$158.00
$267.00
1
96-pc wood case art set
$15.00
1
Daler-Rowney Artist Studio
(66″ easel and carrying case)
$24.97
1
Monster High Toys
30% Off
3