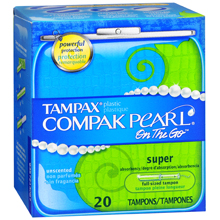 Did you get the Buy One ne Get one Free Tampax Pear Compak coupon in your 7/31 P& G insert?  If so, check out the deal you can get at Walmart:
Buy 2 Tampax Pearl Compax, 18 ct $3.96
Use B1G1 Tampax Pearl Compak 7/31/2011 P&G Insert (exp 8/31/2011)
Pay $3.96 for two or $1.98 each.
Now, if you have a CVS, Rite Aid or Walgreens I would hold on to this coupon to see if it goes on sale at those stores. you MAY be able to get it cheaper before the coupon expires.
Thanks, I heart the mart!