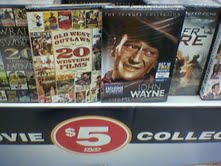 If you haven't been to Walmart lately, you may want to consider a trip. Right now, they have $5 DVDs. That's not really anything new, but they also have movie collections for $5 now as well. Some DVD collections, like the John Wayne tribute collection I bought the other night, have as many as 25 movies in them. That's $.20 a movie! Not bad.
If you don't feel like rumaging through the huge Walmart bins, you can also order them online and pick them up in the store for free. Here are some of the movie collections I think are worth mentioning:
If you can't find what you're looking for, you can always go dig through the Walmart bins or browse through all of the cheap DVDs at Walmart.com.
Find out how you can get 16 Energizer batteries for only $.74 when you shop at Walmart.