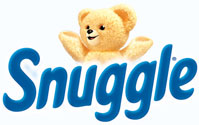 I think by now most of you already have a lot of snuggle fabric softener in your cupboards thanks to the $3 off one coupon available a few weeks back.  But there was another high value coupon available in yesterday's (12/7) inserts for $2 off any Snuggle.  Use it to get the softener sheets free at Walmart:
40 Ct. Snuggle Fabric Softener Sheets $1.86
Use the $2.00/1 Any Snuggle Liquid or Fabric Softener Sheets Coupon from 12/6
Free after the Coupon  Thanks NWA Deals!
Here are a couple of other deals I spotted yesterday:
Steamfresh white rice with vegetables $0.88
Use $0.50/1 coupon from 12/6 SS insert or $0.50/2 printable coupon
Pay as little as $0.33 each after coupon
Wishbone Salad Dressing $1.37-$1.78
Use $0.75/1 printable coupon
Pay as little as $0.62 each after coupon
Birds Eye steamfresh Meals $4.98
Use $1.50/1 coupon from 12/6 insert or $1.50/1 printable coupon
Pay $3.48 each after coupon
I feel like Walmart deals have been a little slow lately.  What other deals have you spotted at Walmart lately?