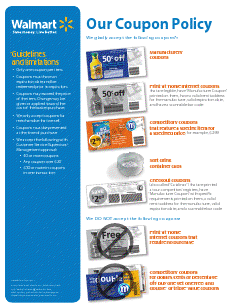 I wanted to let you know that Walmart has once again updated their coupon policy.  This time they have specifically addressed the issue of whether or not they take coupons that are discounts on your next order.  This is what the new policy states:
We DO NOT accept the following coupons:

Checkout coupons

Dollars/cents off the entire basket purchase
Percentage off the entire basket purchase
So, there you have it, no more wondering do they or don't they.  On a good note, they are still letting you apply overage from coupons to the rest of your shopping order.
If coupon value exceeds the price of the item, the excess may be given to the customer as cash or applied toward the basket purchase.
You can view and print the Walmart Coupon Policy here.