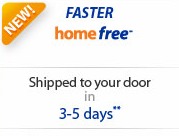 Walmart has added a new option to help you save money on shipping costs. With this new "HomeFree" shipping method, select items qualify for free shipping to your home with a $45 purchase. Shipping takes between 3-5 business days and they come straight to the address of your choice. I was able to try this shipping option already, and even though my order confirmation said my order would be delivered on 10/14. It was actually delivered on 10/12. I ordered on Saturday 10/8 and my order was at my house on Wed 10/12.
How to find HomeFree Eligible Items

Over 100,000 items are included in this new shipping option. You can find them easily by looking for the HomeFree logo in the product description page. You can also sort by items that qualify for this shipping option when you are shopping at Walmart.com. You will see this option available on the left side as you narrow down your search results on the Walmart website.
Don't forget that there are also two other ways how you can get free shipping when you shop the Walmart website:
Ship to Store: You can have items delivered to your local Walmart store and you can pick them up there. Delivery will take between 5-8 days. Over 300,000 items are available for this free shipping option.
Pick Up Today: With Pick Up today, you can shop online and pick up your item in store within hours after you purchase it. Over 20,000 items are available for this free shipping option.
With so many Free Shipping offers available and so many items eligible for them, I think you can find a way to minimize any shipping costs when you shop online at Walmart.
Disclosure: I am an official Walmart Mom. Walmart has provided me with compensation in return for my time and effort spent creating this post. My participation in this program is voluntary and my opinions are always my own.