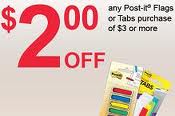 Next time you shop at Walmart, check out for this deal on Post It Flags or tabs:
Buy two Post It Flags or Tabs 2/$3
Use one $2 off $3 purchase Post it flags or tabs coupon
Pay $1 for two after coupons
This is a pdf coupon.  You may want to save the file on your computer as sometimes they get removed from the link.
Thanks Marcia!