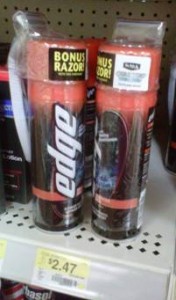 If you have printed the buy one get one free Edge shave gel coupons (and I hear these may have reset so you can print more) here is a deal you may find at Walmart.  Some Walmart stores have the single an of Edge with a bonus Schick Quattro razor for $2.47 each.  Use the buy one get one coupon to pay $2.47 for two plus get the two bonus razors.
Here are other deals at Walmart:
Small packs of Planters nuts by the register $0.48-0.98
Use $1/1 Platers coupon
FREE after coupon
Nabisco 100 Calorie Packs $2.38
Use $1/1 Nabisco printable
Pay $1.38 each
Kraft Fat Free or Light Dressing $2
Use $1/1 Kraft Dressing printable
Pay $1 each
Sugar Free Jell-O $2.78
Use $1/1 Jell-O printable
Pay $1.78 each
Maxwell House Coffee 11 oz $3.68
Use $1/1 Maxwell House printable
Pay $2.68 each
Breakstone Fat Free Cottage Cheese 4 pack $2.66
Use $1/1 Breakstone printable
Pay $1.66 each
Thanks Rose Knows Coupons!