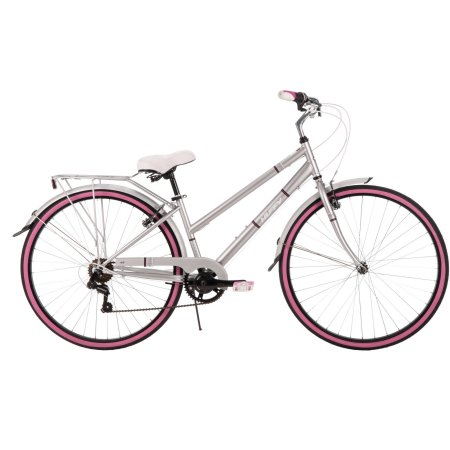 Looking to get out and ride bikes with your kids or maybe save gas and ride in to work? Get the 700C Huffy Women's Norwood Cruiser Bike for $99.00 at Walmart! This bike features:
Frame: steel cruiser frame in matte light grey
Handlebars: cruiser handlebar with double comfort 2-tone grips for improved handling
Fenders: black resin
Seat: padded spring bike saddle
Brakes: hand brakes
Tires: 700C cruiser tires — pink sidewalls
Number of speeds: 7 speed
Advantages: greater momentum without extra exertion; easier rolling; more comfort
Rims: black
Pedals: double comfort 2-tone
Carton dimensions: 54.3″ x 29.1″ x 7.9″, 41.8 lbs
Assembly instructions included
Limited Lifetime Warranty from Huffy, making quality bicycles since 1892
Plus if you select to pick it up in-store you can call your local Walmart and they may be able to assemble your bike for your – complimentary!