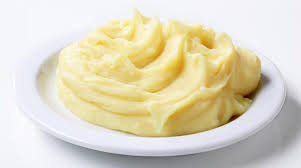 Leftover mashed potatoes are some of the most versatile leftovers in your refrigerator! They're filling, and they can be turned into all sorts of yummy side dishes or snacks.
You could take the easy route and just heat up your leftover mashed potatoes, or you could turn them into one of these tasty creations…
1. Creamy Soup
Leftover mashed potatoes make a great base for cream y soup! Add a little diced ham, sauteed onions, and some milk and cheese for a nice accompaniment. You can also add chunks of cooked potatoes for a hearty main dish.
2. Potato Puffs
Baked potato puffs are a great side for — well, just about anything! They're also super simple to make. Just mix some chives and shredded cheese into your leftover mashed potatoes, and roll small balls of the mixture in bread crumbs. Spray the potato balls with cooking oil and bake in a 400 degree F oven until golden brown. You can also make these in advance and freeze them for later.
3. Shepherd's Pie
Yum! One of our favorite ways to use leftover mashed potatoes is shepherd's pie! The beauty of shepherd's pie is that it can be made with pretty much any leftovers. We usually layer leftover roast beef and gravy, vegetables, and leftover mashed potatoes, top everything with cheese and pop it in the oven until it's all bubbly and browned on top.
4. Potato Pancakes
Potato pancakes are a great meal by themselves, but they can also make a nice side dish. To make basic potato pancakes, mix about two cups of leftover mashed potatoes  with one to two eggs and 1/4 cup flour. You can also add some seasonings, like salt and garlic, as well as cheese, chopped green onions, and bacon. Cook the mixture just as you would regular pancakes in a hot greased pan.
5. Gravy and Stew
Leftover mashed potatoes can be used to thicken gravy and stew as well. You shouldn't need much, and you may want to thin the mashed potatoes with a little milk or water first. Add a little at a time and be sure to stir it constantly.
6. Potato Mounds
Potato mounds are one of the easier ways to use leftover mashed potatoes. Just spoon or pipe mashed potatoes into small mounds on a greased baking sheet and pop them in the oven until they're golden brown on top. You can also mix in things like shredded cheese or bacon for added flavor.
If you're really feeling froggy, you can also use leftover mashed potatoes to make gnocchi, pierogies, or potato bread!
What are your favorite ways to use leftover mashed potatoes?