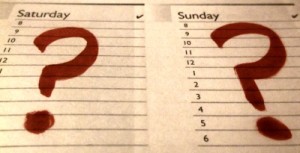 I love weekends! It means a little time away from work, and more time to spend some quality time with my family.
Despite this, I always seem to struggle with the same question each and every week…
"What to do this weekend??"
Finding family friendly activities that won't break the budget isn't always an easy task. This is especially true if you live in a small town or if your family is basically bored with all of the activities in your town. Well, here are some of my ideas for what to do this weekend. Hopefully, you can find something for you and yours to spend a little fun time together.
Get Competitive!
A little competition can be a good thing, and fun too! So, when the family asks you what to do this weekend, challenge them to a dual! Or a video game tournament, or a board game, or a footrace, or anything else that fosters a little competition. Make sure that each family member – regardless of their age or abilities – has a chance to win at least a few rounds.  😉
Have a Slumber Party
Teenagers aren't the only ones who can don some jammies and have pillow fight when they're looking for what to do this weekend. You can have your own family slumber party, and it doesn't really have to cost you a dime. Have everyone put on their favorite pajamas, put out some snacks, and play games or watch movies. Have the kids camp out on the living room floor or the couch. Bonus points if you pitch a tent!
Cook up a Storm
Most kids love cooking, so if you're wondering what to do this weekend, set them loose in the kitchen – with supervision, of course! Make your own personal pizzas, invent and name some new sandwiches, or bake and decorate cookies. While you're at it, throw in a food fight or two!
Gawk at Holiday Displays
This is one of our go-to ideas for what to do on weekends around the holidays. Drive or walk around your neighborhood and take in all of the holiday displays. The kids – and sometimes the parents – are often dazzled by some of the elaborate displays. Round out the night with some hot chocolate and cookies at home.
Get Dirty
Kids love getting dirty. It's something in their DNA, I think. So, if you give them permission to get a little messy, you're sure to win a few points. Lay down some drop cloths and help them finger paint. If you live in a warmer climate, get outside and make some mud pies. You could also get a really early start on the upcoming growing season and plant a few seeds or make a homemade terarium.
Check your Community Calendar
Hunt down your community calendar if you're looking for what to do this weekend. Even if you live in a small seemingly boring town, there's bound to be at least one or two family friendly weekend events near you. You might be surprised. Some good places to start would be community theaters, libraries, and even movie theaters. Our local movie theater shows free kids movies every Saturday morning, and their matinee prices are dirt cheap.
Now it's your turn. What are you doing this weekend? Do you have any great ideas for others looking for what to do this weekend? Leave them in the comments below or on our Facebook page!