There were so many great deals this past week that I was so excited to get back in the "shopping grind."  I had had to take a break for the past three weeks because we had family visiting and then I was traveling or sick, so I didn't have a chance to take advantage of any deals.
I like to shop on the last day of the sale.  It is probably a bad idea as I am more than likely to find empty shelves, but sometimes it works well for me too as some stores may be restocking shelves for the following week.  Here is what I got at Walgreens for better than FREE: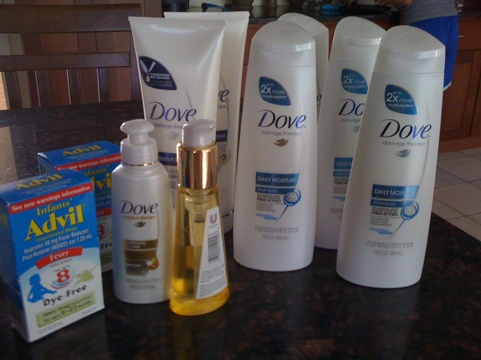 In two Transactions I got: 4 bottles of Dove shampoo and four containers of dove treatment.  I was desperate (almost) for the shampoo.  I find that as my sons get older I am going through it faster.  I did this deal here and it worked even better for me because the lady at the beauty counter at my local Walgreens had coupons for $0.50/1 dove hair care.  So that knocked an additional $1 off my order.
Then I also bought the Infant Advil for my daughter but then I had a sad realization.  My daughter will only be considered an infant for five more weeks.  After she turns two, then she can start taking the children's Advil.  How fast they grow!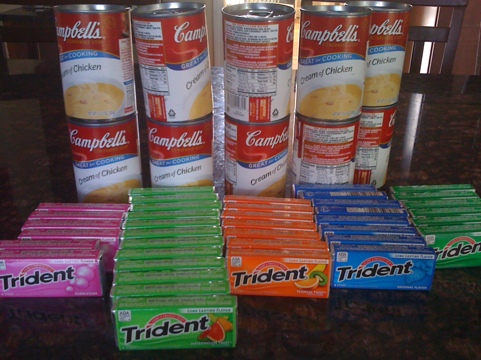 Then I headed to Walmart to price match the Campbell's soup because Walgreens was all out and I knew they would not have enough on shelf anyway.  So I got ten cans of the soup plus a "majillion", in the words of my son, packets of Trident gum.  According to my son they should last us for about 1,000 years and I sure hope so, because I do not want to buy that for a long while.
And just so you don't think we will be eating canned soup and gum for the rest of the week or whatever, I also dropped another $50 on organic milk, fruit, bread, orange juice.  No veggies because we are signed off with a CSA and that is turning out to be an interesting experiment this summer.
So, what deals did YOU get this week?