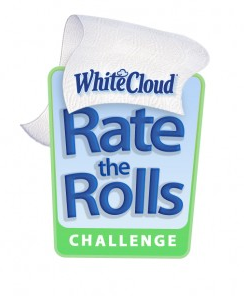 It is time for the big reveal!  Just to recap, White Cloud asked me to go a blind test of two toilet papers made out of recycled fiber.  At the end of the test, my husband and I decided that roll B was the one we liked best.  Buy who made Roll B?  Last night I received an email from Whte Cloud letting me know that roll A was Seventh Generation Toilet paper and roll B was White Cloud GreenEarth toilet paper.
This is what is important to remember about this blind test.  We were comparing apples to apples: both toilet papers were made out of recycled fabric.  Did you know that while both are 100% recycled, White Cloud GreenEarth is always made from 100% post consumer fibers, while Seventh Generation only promises 80% post consumer.  Marcal Small Steps promises 30% post consumer.
Also, did you know that if every household in the United States replaced just one roll of virgin fiber toilet paper (500 sheets) with 100% recycled ones, we could save 423,900 trees (Source NRDC.org Natural Resources Defense Council).  This is a statistic that baffles me.  I mean, we are talking toilet paper here!  Is it really necessary to use tissue made from Virgin Fiber?  This is tissue that gets flushed down the toilet!  How about switching to paper made out of recycled fabric?  I have tried all three brands mentioned on this post: White Cloud's Green Earth, Seventh Generation and Marcal and White Cloud's really is softer than the other two.
At this point I would like to encourage you to reflect about the statistic above and consider switching to recycled fiber toilet paper.  Having tried all three I have shared which one is softer but you are also welcome to make up your own mind. Finally, here is a $1.25/1 White Cloud coupon you can use to save money on it.
Disclosure: I am a White Cloud blogger, and I am compensated for my time. All opinions are 100% my own. Please see my disclosure policy for more information.