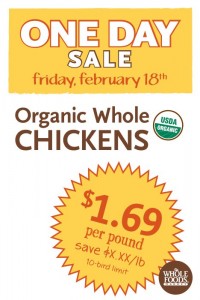 Whole Foods has announced an incredible deal on their Facebook page.  This Friday only (2/18) you can get organic whole chicken for just $1.69 a pound!! I can't tell you what an awesome deal this is.  Just this past Saturday I checked and my local Costco sells them for $5.99 a pound, gasp!
You may want to call ahead your local Whole Foods store just to confirm participation and you may want to get there early too.  I wonder if Whole foods issues rainchecks, but I doubt they do on these type of sales.
PS. the comments on that Facebook post makes for some interesting reading.  Let's just say everybody has an opinion and everybody is right, oh boy!
Thanks, Organic Deals and Coupons!