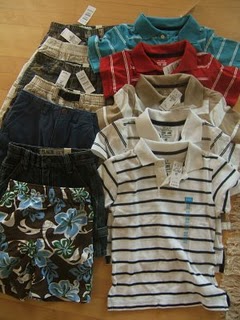 This past weekend I visited one of the outlet malls near where I live. I picked up what you see: twelve pieces, 6 shorts, 1 pair of swimming trunks and five shirts for $3.58 a piece, tax included. I can usually find children's clothes at my local thrift shop for around $2.87 a piece but the pieces are
very
worn. I can never justify buying clothes there because I have to buy clothes that will last me two boys.
I know that if I wait for end of season sales I can get new clothes for my children at bottom prices. I also love that I get brand new clothes that will hold up getting worn by two boys. I have found that starting in July through September I can find summer clothes on closeout. For fall/winter clothes I find the best time to buy is from mid February to the beginning of April. This is when I usually hit the outlet stores or even department stores too. I only hit Kohls when I have a 15-30% off coupon and only glean the clearance racks.
This is how I save money on clothes for my kids. Unfortunately since I moved to this area in Wisconsin, I don't find great deals on children's clothes at garage sales or thrift shops which is a pity because I used to be the queen of garage sale shopping.