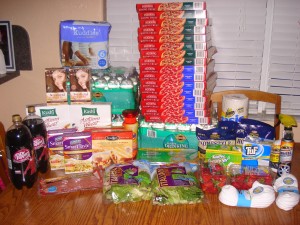 The winner of the third week of the Iron Shopper challenge is Elena. Elena rocked the deals at Winn Dixie, Target, Walgreens and CVS. In total she got $250 in goods for only 55 cents after coupons and rebates. Check out her deals right here. Or like Elisa put it to me last week after the $20 she gets for being the Iron Shopper winners she actually gets paid $20 for shopping. Wanna get paid to shop to? Make sure to share your deals on the weekly Iron Shopper Challenge.
Winner of Email your Deal is Cham.  Cham emailed me about this $2/1 Aveeno Suncare coupon.  Thanks Cham!
Winners of the Nivea Coupons:
Comment: Star says I will use these coupons at Walgreen if I win and get them.

Comment: Maureen G says My household is dominated by men, me being the only female (unless you count the dog), so I will be purchasing them for my family as well as our out of state father and father in law we plan to visit this summer. I would also like to get some to our local pantry since they could always use them! Thank goodness for Wags!!!

Comment: Sue says Lots of males in my house. Would love to win the coupons!

Comment: Jennifer Feeley says My husband is always complaining that the body washes I buy are too girly. Hubby would love it if I won!

Comment: Amy says I would use this coupon at Walgreens. Thank you for the opportunity! 🙂

Comment: karyn boicelli says If I was to get these coupons, I would use them at my walgreens. Then I would donate them to our local homeless shelter, The register reward go to them as well, to help pay for their prescriptions, or other things they may need. We are very luck to help out:)

Comment: David Surber says Would love to have a coupon to use at Walgreens!!

Comment: Amy says I would use them at Walgreen's, as long as they have enough in stock!

Comment: Aimee says Walgreens!

Comment: amy L says Winning these coupons would make nice gift baskets for fathers day.