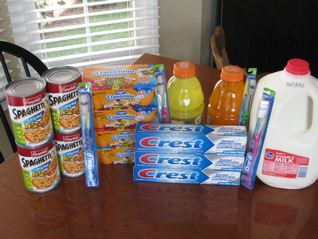 The winner of this week's Iron Shopper challenge is Ashli.  She got everything you see picture for one penny!  Don't believe me?  Check out her deal here.
The winner of this week's email your deal is Emily D. who emailed me the following update on the Kotex by U deal going on at Walgreens through 7/31:
When you purchase 3 U by Kotex products at Walgreens (on sale 3 for $10.00) you get a register reward printed for a free movie ticket, value up to $12.00. This deal has been advertised for a couple of weeks. Here is where the deal gets even better!! When I did this deal last week & this week, a free movie ticket voucher printed, AND a register reward for a FREE playtex gentle glide or playtex sport tampons printed, value up to $4.99!! I have done the deal a few times, and both coupons consistently print. There are also printable coupons still available on the Kotex website for $1/1 U by Kotex Product, one box. You can print up to 2 per computer. So, by using 2 coupons for 3 boxes, you could potentially pay 8.00 plus tax out of pocket, and get a free movie ticket worth up to $12.00 and a free coupon (up to $4.99) for a playtex product back!! We love getting free movie tickets, and I can always use tampons, so it is a great deal for us! Hope some of you can enjoy this deal! Thanks so much for a blog that brings us great deals and information!!
Thanks Emily for the deal!