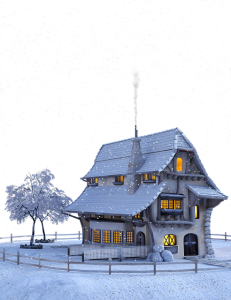 Is your home ready for the cold weather of winter?   I'm sure you already know this, but there are things that you can do to your home to make it better prepared for the harsh weather conditions that come in wintertime and that will help you to save money on your heating costs.
Here are some of my favorite winter-proofing tips for your home that have helped me save money over the years.
Use a programmable thermostat.  If you don't yet have one, be sure and buy a programmable thermostat and use it.  These help to prevent major shifts in the temperature in your home and keep the bills from skyrocketing.

Use a draft snake.  A draft snake can be a rolled up towel, or a sand filled piece of fabric that you place in front of your exterior doors to keep out the cold.

Bubble Wrap on your windows.  I'm sure you probably think it will look funny, but if you tape bubble wrap on your windows, you can prevent a loss of up to 30% of the warm air in your home, which could potentially save a massive amount of money over the course of a year.

Reverse your ceiling fans.  Did you know that reversing the direction of your ceiling fan can adjust the temperature in the room significantly?  

Put your A/Cs away.  Do you still have A/C units in your windows?  It's time to take them out, because these create a big loss of warm air throughout your home.
I don't know about you, but I am excited about the cooler weather and I am all about getting my home ready for it. These are all super inexpensive and easy to do winter-proofing tips, but there are lots more tips out there!  What are your favorite, simple winter proofing tips?