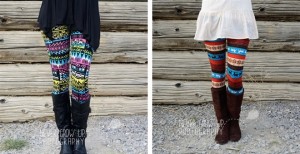 I love these! They look so festive and cozy, and – the best part – they're on sale!
These holiday leggings are in the Jane Daily Boutique Deals, and they're on sale for $8.99. They normally sell for $22.99, so you save about 60%. Shipping for the first pair is $3.99 for the first pair, and only $1.49 for each additional pair.
Trying to be festive on a budget? Check out our tips for finding cheap Christmas decorations.