Nutella fans unite! It's February 5th, and that means that it's  World Nutella Day today!
World Nutella Day started back in 2007 by possibly the world's biggest Nutella fan, Sara Rosso. Last year, though, World Nutella Day almost came to an end when the tasty hazelnut-chocolate spread's producer, Ferrero, sent a cease and desist letter to their biggest fan stating that she must stop using and publishing anything with the Nutella name, logo or likeness.
Fortunately for Rosso and all of the celebrants of World Nutella Day, all ended well. World Nutella Day was saved when Ferrero dropped the complaint and allowed Rosso to continue with her crusade to celebrate and spread Nutella yumminess every February 5th.
This year, World Nutella Day is going strong as bloggers all over the Interwebs join hosts Sara Rosso and Michelle Fabio and contribute Nutella recipes.
After reading about his earlier today, I decided what better way to celebrate World Nutella Day than with a tasty Nutella recipe?
So, I took a quick trip to Dollar General for some Nutella and made me some Nutella fudge!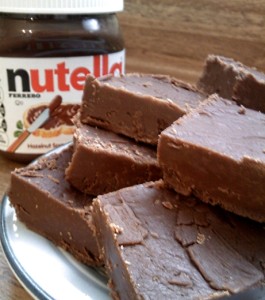 Yes – my food photography skills leave a little to be desired, but the Nutella fudge still turned out better than I expected.
This is definitely not for the faint of heart. It's super easy to make, but it's also insanely rich and dense. Just a tiny piece is enough to do the trick! This Nutella fudge recipe was adapted from hubby's awesomely delicious peanut butter fudge recipe. I don't remember exactly where he got it, but I would consider leaving him if he ever lost it. (Not really! I don't think anyway…)
If you think the brown sugar may be too much for you (I'm a brown sugar freak!) you can most likely substitute white sugar, but I haven't tried that little ditty – yet. Actually, isn't fudge made with brown sugar technically penuche?
Anyway, let's get to making some Nutella fudge!
Nutella Fudge
Ingredients
2 cups brown sugar
1/2 cup milk 
1 cup Nutella
1 teaspoon vanilla (optional)
Directions
1. Grease an 8×8 square pan and measure one cup of Nutella.
2. Bring sugar and milk to a boil in a medium saucepan. Let it boil for 2 and a half minutes while stirring constantly.
3. Remove from heat and immediately add Nutella and vanilla. Stir well until smooth.
4. Pour mixture into the greased pan. Let it cool and harden before cutting it into small squares.
Now, a few notes…
You can line the pan with foil first and grease the foil. When the fudge is set, you can simply lift out the foil, peel it away, and cut the Nutella fudge into squares.
When you're boiling the mixture, it should be somewhere between a rolling boil and a simmer. Also, make sure you stir it constantly and scrape the sides of the pan occasionally to prevent it from burning.
After you add the Nutella, it may appear somewhat grainy or lumpy at first. Just keep stirring it until it smooths out. You might have to put your back into here, 'cause this stuff can thicken up quickly!
And there you have it – Nutella fudge with brown sugar! Yum, albeit a bit rich.
Are you celebrating World Nutella Day? What are your favorite ways to eat Nutella?