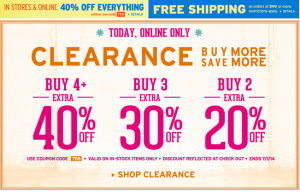 Time to start that school clothes shopping if you haven't already! Today ONLY, you can get up to 40% off Justice & BROTHERS!
In stores and online, you'll get 40% off your entire order. If you're shopping online, use the promo code 755. This sale includes summer essentials, popular back to school styles, uniforms, shoes, and lots more!
If you love the clearance racks, make sure you shop Justice & BROTHERS online! When you use the code 755, you'll get 20% off when you buy 2 clearance items, 30% off when you buy 3 clearance items, and 40% off when you buy 4 clearance items.
Shipping is free on orders of $99 or more. You can also get free returns, just in case you pick up the wrong size!